Flow chart
Internet address Dispute Resolution Committee The IDRC proviedes time-and cost-efficient service to resolve domain name disputes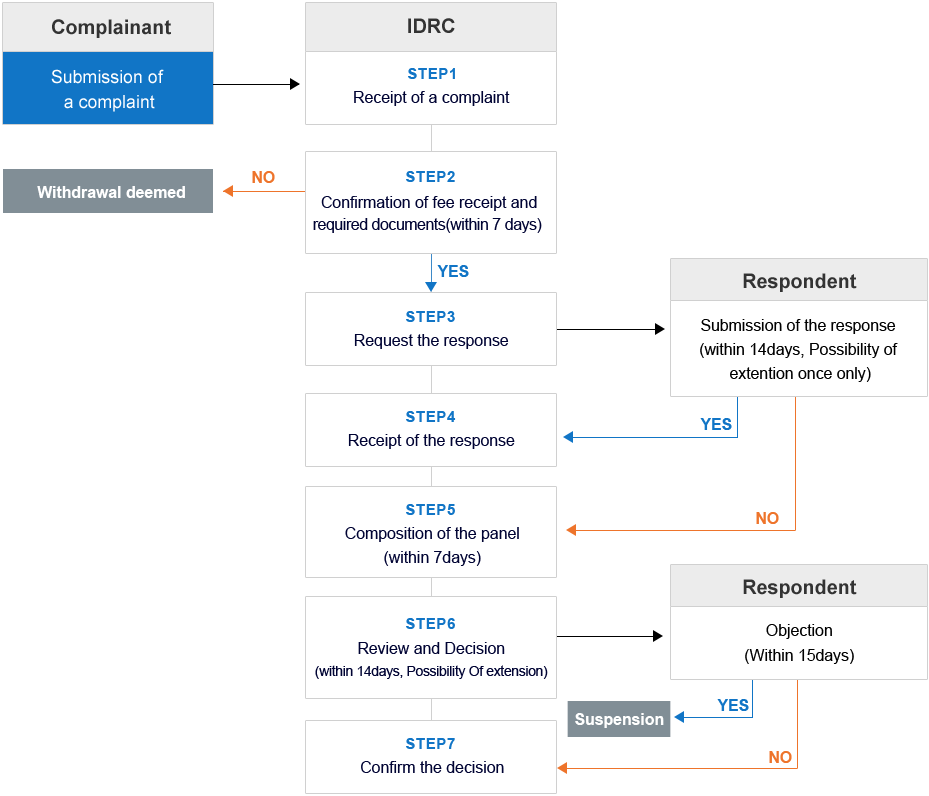 Step 1 : Receipt of a Complaint
The Committee receipts a complaint by post or e-mail(kidrc@kisa.or.kr) or through the online Dispute Resolution System
What is the Online Dispute Resolution System?
A system for processing various digital documents that are used for the mediation of Internet address disputes, including online submission, acceptance, delivery, storage of digital requests, or claims for or replies to the claim for mediation of Internet address disputes and mediation proceedings and preparation of decisions or awards.
Step 2 : Confirmation of fee receipt and required documents
Mediation proceedings commence when all documents are received and mediation fee payment is confirmed.
Step 3 : Request the response
The Committee requests the respondent to submit a reply refuting the reason for mediation by sending a copy of the dispute mediation application and request for submission of a reply to the respondent's mail or e-mail address as shown in the domain name registry.
Step 4 : Receipt of the response
The respondent should submit his/her reply by post or e-mail(kidrc@kisa.or.kr) or through the Online Dispute Resolution System within 14 days of the date of receiving the copy of a complaint and related documents.
The respondent may request for extension of the time limit for submitting the reply (up to 14 days) once only.
The mediation proceedings continue even if the respondent fails to submit his reply within the time limit.
Step 5 : Composition of the panel
The mediation panel is composed of one or three mediators depending on the option selected by the applicant or the respondent. The mediators are appointed in the order determined by the Committee.
Step 6 : Review and Dicision
The panel reviews the case by document as a rule.
The panel decides the transfer or cancellation of the domain name or dismissal of the request for mediation based on the decision criteria under Article 18-2 of the Act on Internet Address Resources.
Step 7 : Confirm the decision
When the panel makes a transfer or cancellation, but the respondent objects to such decision, the respondent may file a lawsuit with a competent court of law or request for mediation against the claimant.
If the respondent fails to submit a document proving that he has filed an objection with the Committee Secretariat within 15 days of the date the decision is delivered, the respondent is deemed to have accepted the decision, and the claimant may request the Committee Secretariat to enforce the decision.
※ How to Use the Online Dispute Mediation System

a. User Registration
You may access the Online Dispute Mediation System by registering as user at the Committee website (http://www.idrc.or.kr).
b. Preparation and submission of mediation documents online
You may prepare and submit your dispute mediation request or reply online.
c. Online viewing or output of mediation documents
You may view or output mediation documents or awards in real time on the "My Dispute Mediation" menu.